ON SALE NOW
A Best Book of 2020 – NPR
A Best Book of 2020 – The Economist
A Top Ten Best Science Book of 2020 – Smithsonian
A Best Science Book of 2020 – Amazon.com
A Best Science Book of 2020 – Barnes & Noble
A Best Science & Technology Book of 2020 – Library Journal
A Most Fascinating Book of 2020 – Wired
A Must-Read Book to Escape the Chaos of 2020 – Newsweek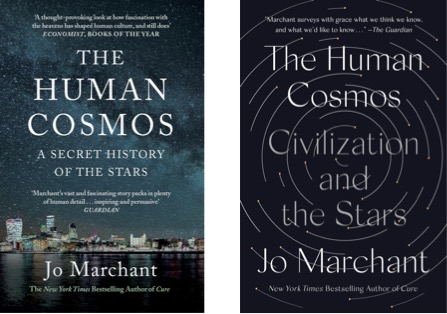 A journey through the history of science, and humanity's relationship with the night sky and the cosmos beyond.
For most of human history we have led not just an earthly existence but a cosmic one. Our innate relationship with the stars shaped who we are – our religious beliefs, power structures, scientific advances and even our biology. But over the last few centuries we have separated ourselves from the universe that surrounds us. And that disconnect comes at a cost.
In The Human Cosmos, Jo Marchant takes us on a tour through the history of humanity's relationship with the heavens. We travel to the Hall of the Bulls in Lascaux and witness the winter solstice at a 5,000-year-old tomb at Newgrange. We visit Medieval monks grappling with the nature of time and Tahitian sailors navigating by the stars. We discover how light reveals the chemical composition of the sun, and we are with Einstein as he works out that space and time are one and the same. A four-billion-year-old meteorite inspires a search for extra-terrestrial life. And we discover why star-gazing can be really, really good for us.
It is time for us to rediscover the full potential of the universe we inhabit, its wonder, its effect on our health, and its potential for inspiration and revelation.
Praise for The Human Cosmos:
"Marchant is a deft writer. Her characters are vivid and her stories flow… The Human Cosmos is a reminder that the forces that shape humanity far precede modern people and will persist long after we're gone." New York Times Book Review

"Dazzling and profound, The Human Cosmos is a skyward gaze at the void we never stop trying to fathom." NPR Books Concierge

"[A] luminous and fascinating journey through science, religion, culture and everything in between." Newsweek

"Details the many ways our relationship with the stars has deeply impacted our existence and evolution… leaves readers ready for reflection, re-evaluation and rediscovery." Smithsonian

"Marchant's vast and fascinating story packs in plenty of human detail… inspiring and persuasive." The Guardian

"A thought-provoking and grand meditation on our stars and skies." Library Journal

"In a tour de force on par with Sapiens by Yuval Noah Harari, Marchant argues that we need to experience the awe evoked by the unveiled night sky so that we, once again, feel profoundly connected to the cosmos and, more crucially, to earthly life, which is precious, vulnerable, and in our care." Booklist (starred review)

"A thought-provoking look at how human fascination with the stars has influenced beliefs throughout history… Marchant's epic account is one for readers to savor." Publishers Weekly (starred review)

"Extensively researched and fascinating… ought to be essential reading for all who are curious about what we really are and what our lives are really about." Journal of the British Astronomical Association

"Erudite… entrancing… makes that sight [of the stars], once so common and now so rare, seem more meaningful than I'd ever imagined." Book and Film Globe

"Joins the dots to present the big picture of humanity's place in the universe… I cannot recommend this book highly enough." BBC Sky at Night magazine

"A thought-provoking look at how fascination with the heavens has shaped human culture, and still does." The Economist

"[A] multifaceted meditation on humanity's relationship with the cosmos." Nature

"Marchant plants her book right in the gap between cultures… intelligent, thought-provoking and willing to take seriously the challenge [C.P.] Snow laid before the intelligentsia 60 years ago." The Tablet

"The Human Cosmos invites us along for a journey, retelling the story of our wondrous relationship with what lies above us, and how its mysteries continue to captivate, and facilitate, the human imagination and catalyze our innovation." Agustín Fuentes, Professor of Anthropology at the University of Notre Dame, author of The Creative Spark

"An important and delicious book. Jo Marchant, whipsmart, sensitive, and eloquent yet unforced as ever, mines the history of stargazing to show that today's cosmology can't reveal the "intrinsic nature" of anything, whether stars, stardust, or human existence, because omitting human consciousness from its equations impoverishes not just our comprehension of the universe, but the notion of understanding itself." David Dobbs, author of Reef Madness

"Marchant lifts our gaze skyward and reawakens our awe for humanity at a time when we so desperately need it." Amanda Mascarelli, Managing Editor of SAPIENS

"A dazzling cultural account of our enduring and ever-changing relationship to the cosmos. Beginning with cave paintings and stone circles, Marchant traces humanity's epic journey from a sky filled with gods, spirits and celestial events that shaped people's lives and beliefs to the Big Bang and the search for alien life. This book will change the way you look at the night sky." Manjit Kumar, author of Quantum

"Vast in scope and meticulously researched, this brilliant book traces humanity's enduring relationship with our physical and cultural ancestors: the stars. Full of fascinating stories, The Human Cosmos weaves astronomy with astrology, mathematical physics with gods and spirits. It will make you question your reality. It left me starstruck." Gaia Vince, author of Adventures in the Anthropocene and Transcendence

In the UK, please click here to support local bookshops and purchase from Bookshop.org
Videos
Podcasts
Science Bookshambles Jo Marchant chats to Robin Ince
Little Atoms Jo Marchant chats to Neil Denny
Articles
Ancient star catalogue found hidden in Medieval parchment Nature October 2022
How do our minds relate to the cosmos? The Psychologist September 2020
An ancient site with human skulls on display Nautilus September 2020
Obsession and desire in an ancient Assyrian Library Literary Hub September 2020
The oysters that knew what time it was Wired September 2020
The moon really may have strange effects on our health New Scientist September 2020
Life on Mars: The story of meteorite ALH84001 BBC Science Focus September 2020
*** The Human Cosmos is published in the US by Dutton and in the UK by Canongate. For retailer links, please click on the publisher names. ***