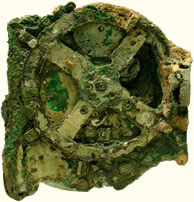 I recently had the pleasure of speaking to the Flamsteed Astronomy Society (via Zoom) about the Antikythera mechanism, the mysterious ancient Greek mechanism at the centre of my first book, Decoding the Heavens.
In Decoding the Heavens, published in 2008, I describe how this sophisticated bronze device stunned the world after it was retrieved from a shipwreck near the Greek island of Antikythera in 1901, and how a succession of scholars have since devoted their lives to understanding its workings, from predicting eclipses to displaying the complex motions of the Sun, Moon and planets in the sky.
In 2020, there's plenty more to tell, including the results of a ten-year project to decipher the extensive inscriptions on this 2000-year-old artefact, as well as a series of recent missions to excavate the original wreck site. The Antikythera mechanism has been described as a "portable cosmos"; a miniature, mechanical universe. For me, it's the most stunning object we have from the ancient world, that has revolutionised ideas about what the ancient Greeks were capable of, as well as about the origins of our own view of the universe. Now we understand it better than ever.
You can watch the talk here: